Our main reason for coming to Sepilok, and a major attraction in Borneo in general, was to see orangutans in the wild. This area of Sabah is home to the Sepilok Orangutan Rehabilitation Centre (
SORC
) and it provides a great opportunity for viewing these incredible creatures in the jungle.
SORC was created to rescue and care for orphaned and injured orangutans, with the eventual goal being releasing them back into the jungle again. The program is run by a UK based organization who does incredible work here, sponsoring a local vet and nurse, offering volunteers, educating the locals about the situation of these animals and providing employment to people in the area on a direct and indirect level.
As the centre is located on the edge of a protected jungle preserve the animals are safely re-introduced into the wild over a period of several years. Young and injured ones are initially taken care of by volunteers who train them in aspects of orangutan life like swinging (between trees and branches of course) and foraging for food.
Eventually they are slowly introduced into the jungle, where they are still fed twice a day. The feedings take place at three different platforms, the first one very close to the center and the last much further into the jungle, this is done to slowly lure them further away from human contact. They are fed only a small amount of food at these stations, encouraging them to find food on their own.
Visitors to the center are allowed to view feedings on the first platform, which can be reached on a raised wooden walkway through the jungle, which brings one to a viewing platform. Ropes are suspended from the trees to the platforms to guide the apes in the right direction.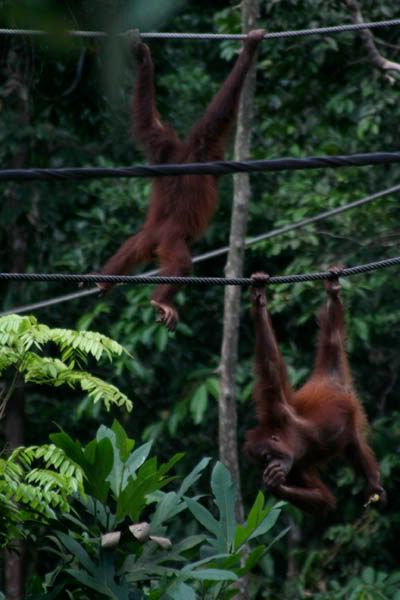 The number of these orange creatures one can see in a day is never guaranteed, but the day we visited we got lucky and saw six at both the morning and afternoon feedings. It was an incredible experience, seeing them arriving from a distance, slowly swinging along the ropes until they came to the platforms. Some of them were rather playful and silly, others just came in for a snack and then made their way back into the jungle.
We were also fortunate to see three young ones up close after the last feeding. When we arrived back at the center they were hanging around the trees right behind the ticket counter and playing on the wooden walkway. Wardens were around the whole time to make sure a cheeky baby do not come too close to any visitors, as they are very susceptible to diseases carried by humans and too close contact can be very harmful. Standing only two meters away from a young orangutan frolicking through some bamboo was still incredible though.
We're not done with our time here, but I am sure this visit to the research center will stand out as the highlight of our time on Borneo and I sure won't mind to come again.
* The pictures here were all taken by Alexander