After completing
the mobile
for my nephew, Alexander decided we should make something for his two-year old niece, Maddie. He suggested a hippo and decided that it was also time for me to move onto something more challenging and make a three dimensional hippo. Yikes! Luckily he took it upon himself to make a pattern and quite the pattern maker he turned out to be.
He picked out some shweshwe fabric and I set out to cutting the pieces. It was going to be a challenge, but luckily we were still at home so my mom could help out if we got stuck. We decided to embroider some details onto the hippo- eyes, nose and a little fish, with the machine. I quickly figured out I had no idea how to go about doing this.
Good thing my grandmother lives crawling distance from my parents. We went over for tea one morning and asked her if she would do the embroidery for us. She was pretty excited to be included in our project and immediately grabbed her box of supplies and helped us pick out some colors and discussed the design details.
Later that afternoon she came over to drop them off. The embroidery looked super and it was time for the hippo to be assembled. It was a bit of a headache and I though we would not be able to finish it in time, but my mother helped us a bit with the sewing, stuffing and stitching the hippo shut.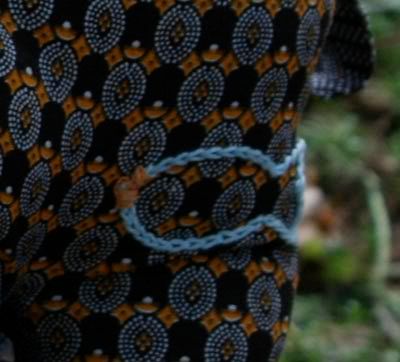 For a first attempt at making a 3D toy I think we did really good. The hippo looks very South African and the embroidery detail add a sweet unique touch. She's a bit heavy around the head and tends to fall on her chin sometimes, but overall she's a sturdy hippo.
And did Maddie like her hippo? When Alexander showed it to her and asked her what it was she answered, 'It is mine!'
* Thanks Alexander for the pictures.
** I just ordered a new sewing machine and can't wait for it to arrive so I can start on some
Lotta Jansdotter
projects- I just picked up her book,
Simple Sewing
and it has some very fun and inspirational projects.