In between our jaunt to Asia and our current stay in the US we spent a couple of weeks visiting my parents in Hoedspruit, South Africa. Visits home are usually rushed and chaotic and ends up with me being frustrated, but this time we took it easy and stayed for 3 weeks. It's the longest I've been home in years and it was very well worth it. I may have mentioned in previous entries how our time was spent on creative pursuits like sewing (me) and sketching and painting (Alexander) as well as cooking for my family.
While we were there Alexander took a lot of pictures of the garden. As long as I can remember gardens were always big with my family. Both my parents grew up in homes where gardening was a popular hobby and it is something that they both actively pursue. I believe that starting our day having breakfast on the 'stoep' with our view of lush garden (thanks to some very late rains) contributed to our time there being a very memorable one.
The 'stoep', pictured above, is spacious with some trophy antlers from my grandfather, dad and brother and other bits hanging around. Our house is very popular with toads who try to nest inside, much to my mother's frustration (they attract snakes and messes a bit) but we befriended them. This one hung out on Alexander's leg for a bit.
My parents have several aloe species growing just beyond the garden as part of their nursery, they supply indigenous plants to gardens and businesses in the area. We also have a variety of avo trees growing around the garden, sadly they none were ripe for the picking while we were still there. The dam is a couple of steps from the home with nice views of the hills beyond. It's home to some colorful fish.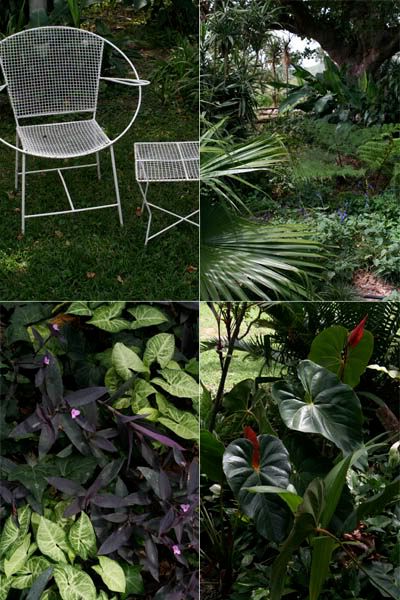 A quiet spot in the overgrown garden. I have no idea what most of the plants in the garden are, but I really like the dark purplish ones in the bottom left frame.
I don't think I'll ever live in a house with a garden as spacious as theirs, but I do hope that we have the chance to live somewhere someday to carry on their love of gardening.