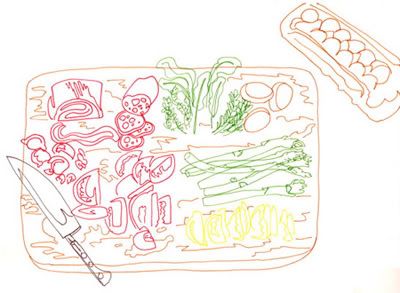 Our Saturday in San Francisco was spent at the
Ferry Building
's weekly farmer's market, an event that sees the building and space around it filled with locals and tourists alike standing in lines for delicious meals and to pick up fresh and organic produce.
We decided to stock up on some goodness and make breakfast for the family Sunday morning. I was inspired by a recipe for a breakfast pastry in February/March issue of ReadyMade magazine which suggest arranging some ingredients on puff pastry, putting it into the oven and topping the finished product with a fried egg. It seemed simple and a great idea for breakfast.
From the market we got (clockwise in the picture above from top left)- pancetta and a fennel and orange salami from
Boccalone Sulameria
, a bundle of fresh herbs, free-range eggs, asparagus, two kinds of heirloom tomatoes (how have I not had this before?) and Dutch shallots. Everything was either organic or free-range or both and everything looked and tasted just magnificent.
I could not find puff pastry as the recipe suggested, so instead I picked up some phyllo pastry from the friendly grocer across the street from our apartment and left it overnight in the fridge to thaw.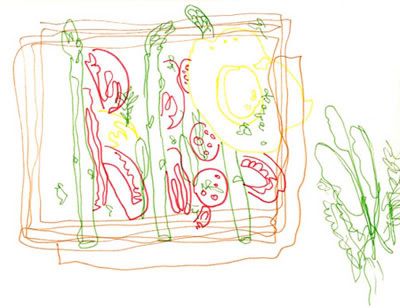 Sunday morning I started out by cutting and slicing up all the ingredients, neatly arranging them on the cutting board before starting work on the pastry. I've never worked with any form of pastry before so I was rather nervous. What I did to the phyllo was probably somewhat wrong but it worked fine. I folded the sheets in half, brushing each layer with a little melted butter. I forget how many sheets I used, it wasn't too many. The last one I brushed with some beaten egg and then arrange the rest of the ingredients, except for the eggs, on top with the help of Alexander.
While the pastry was baking in the oven (preheated to 375F and baked for about 12 minutes or so) we cooked the eggs. When the pastry was nicely browned and the toppings were just nicely cooked we removed it from the oven, topped them with egg and served. Simple and fantastic.
* The images were sketched by Alexander. He's on a drawing and painting mission and I might do some more entries with his work. Fun!