Apologies for being a lame blogger. I got reprimanded by a fellow blogger the other day so I will try-try-try to be more active here.
We're currently on a family holiday in northern California. Having a most fantastic time and feeling quite at home in this part of the US. If I had a dollar for every time Alexander mentions something along the lines of 'so we should totally move back to this part' I'd be able to afford a pair of Tom Ford sunglasses by now. I do agree with him though. I enjoyed Chicago and New York seems like fun, but there is something about the West that just clicks with me.


We spent some time in Napa, visiting wine farms, enjoying the scenery and we got to meet the above mentioned blogger, delightful Erin of
Endive Chronicles
and her husband Phil. And of course we had to stop by an In & Out to satisfy a craving of almost 3 years!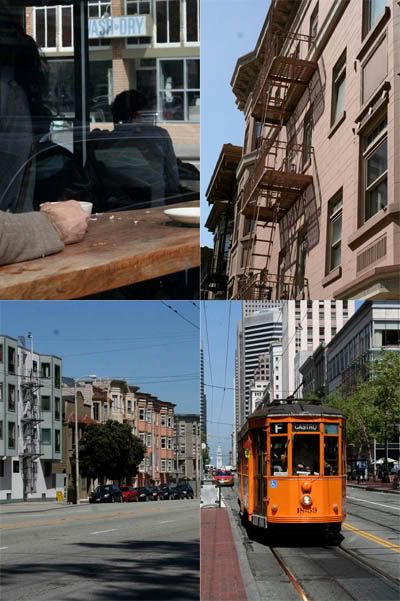 At the moment we're in San Francisco and I am loving it. I must admit that I was a bit skeptical about the visit, everybody who heard we're coming could not stop ranting about what a great city it is. My skepticism was gone within the first few seconds of arriving here though. It really is a great city. It has everything I like- lovely fresh produce, excellent food scene, great architecture, handsome men, stylish ladies, fun shopping, sweet coffee spots, environmentally conscious... in a word, it is awesome.


Since arriving here we've been doing a lot of eating and wandering around. Some highlights include grabbing superb Vietnamese sandwiches at a grubby spot and then some fabulous baked goods from Tartine and then enjoying them in Golden Gate Park. We had the most amazing dinner at Burma Superstar (if the food there was at what food is like in Burma then book me a ticket pronto!), more great sandwiches at Wexler's downtown and super ice-cream at the Bi-Rite Creamery in the Mission.
We're almost getting ready to go again and already I know I am going to miss San Francisco. But we are keeping it open as an option of possible-future-home-city so who knows. And if we decide to move back to LA (which luckily I also love-love-love) then SF is only a couple of hours away. Head over to
Alexander's blog
soon for some more stories on our foodie adventures here.
*Thanks Alexander for the pictures!