While at home just now (did I mention that we arrived in the US a couple days ago?) I spent a lot of time over at my maternal grandmother's house. She's in her eighties and my last grandparent still around. Alexander and I paged through some of her old albums and discovered some fantastic old pictures, mostly of her husband when he was a young man.
She entertained us with some stories of him during the second world war and of her teenage years. I decided to borrow her albums and scan some of the images and also discovered some old family pictures from my dad's side of the family. It was an incredible trip into my genetic heritage and family's past, seeing resemblances and hearing about events that took place long before my time again. It made me kind of sad too, I never got to know any of my other grandparents very well, so I missed out on a lot of their stories.
Here are some images so long. I might post some more as I sort through them.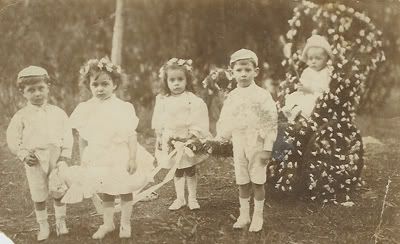 My paternal grandfather is standing second from the right. I forget what the event was.
And here he is many years later as a young man, I inherited his names- Jean Bordeaux. He also went by Bordeaux, or Oupa Bordeaux for me. He passed away when I was 7 so I never really knew him. But apparently I inherited his preciseness.
His wife, Ouma Tille. I adored her, she instilled in me a love of reading and the piano. Sadly my elementary school piano teacher ruined it for me. I stopped playing as soon as I went to high school.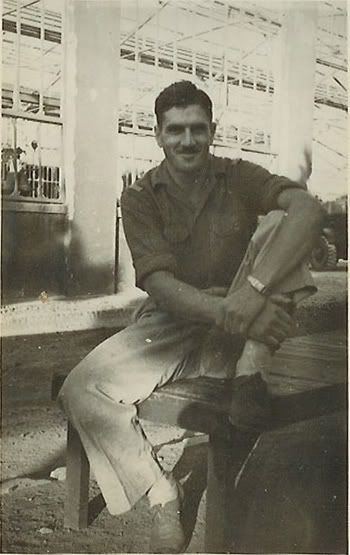 My maternal grandfather, Oupa Johannes. He was (is it okay if I say this?) an incredibly handsome man and I think he was well aware of it. I thought he did not like me as a kid, but later found out that he told my mom on his deathbed that I was his favorite. My grandmother also told me recently how he basically told her I was going to be gay and he was being very protective of me as a result.
Ouma Isabel. There are sadly not a lot of pictures of her when she was young. She's still alive and very busy, always sewing or gardening, baking and cooking. Her father spent time in a concentration camp during the South African wars, she was born in a simple adobe house and I can spend hours listening to her stories about my family.
Here is one of my father as a kid. Love-love-love the outfit. He was adorable I think and there are several pictures of him dressed up in the cutest little outfits. I suspect my grandmother always yearned for a girl.
And this is my mom as a baby girl. I had the same deep brow as a baby and now my nephew's got it too. You can also see my sister as a baby in this one. A really sweet baby pic of her.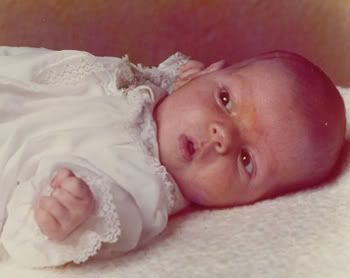 And finally me. I believe this was on the day I was baptized. The dress was the one my paternal grandmother was baptized in as well as my father. We still have it, an incredible heirloom dating back to the 1910's. It is a long dress with lots of lace and mother of pearl buttons. Everything was handstitched. It is exquisite, my nephew will be baptized in it as well.