To welcome our new nephew into the world Alexander and I decided make a mobile with African animals made from South African shweshwe to hang above his bed. At the time we didn't know if it was going to be a boy or a girl, so a mobile with neutrally coloured shwshwe seemed a safe idea. We started on the project in December last year, but never got further than drawing the patterns and cutting the fabric.
Moving house and travel wreaked havoc with that plan though and so the cut-out pieces of fabric were mailed to my parents, the project to be finished once we had access to a proper sewing machine and other equipment again.
It ended up being quite a family project. Alexander designed and drew the patterns and gave lots of helpful suggestions. I was responsible for sewing and stuffing the toys and my mom assisted in sewing them shut. My dad had some great ideas for building a stand and did all the sawing and drilling. There were a couple of nervous moments, but in the end it all came together nicely I think.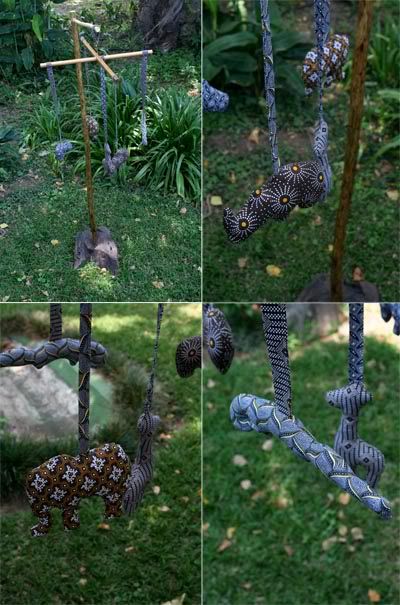 Have to say I'm pretty satisfied with how it turned out. I like that African look and feel of the animals and I think the stand adds to the natural style of his parents' house. The mobile can also be removed from the stand and travel with them to their temporary home further north where they will be living for the next few months while my brother is their for hunting season, where they can suspend it from the ceiling over his bed. I hope he likes it.
I am tempted to try my hand at more of these and sell them on Etsy, so anybody with a word of advice in that regard, give me a shout.