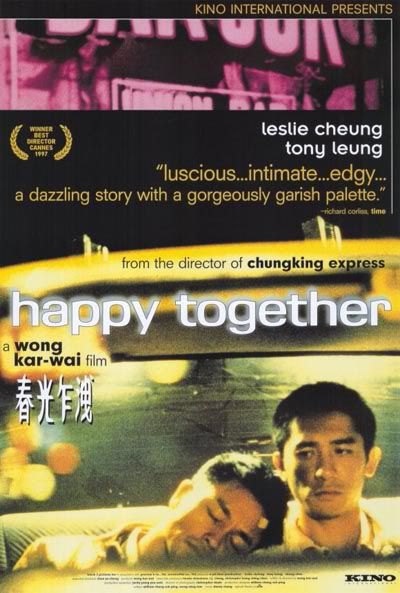 I watched Wong Kar Wai's Happy Together for the first time earlier this year. It became an instant favorite. Don't let the title mislead you though, there is very little happiness in being together for Po-Wing (Leslie Cheung) and Yiu-Fai (Tony Leung). But the yearning to be happy, to love and be loved, is just so incredibly beautifully portrayed in this tragic love story, set in Argentina.
The movie came out in 1997, years before Brokeback Mountain, starring two major Hong Kong hunks, with movie posters that did not hide the fact that the movie had a gay theme (
unlike this one
) and started out with a sex scene between the two main leads. I wonder why the movie did not make the same impact as Brokeback? I suppose partly it was because it did not have any mainstream appeal, it was not a Hollywood production with actors who are not really known in the 'West.'
I really loved the story, the cinematography, excellent acting and the brutal honesty in portraying two lost men in love. The movie ended in a night market in Taipei, which also struck a chord with me.
For the past few weeks The Turtles' song from which the movie took its title has been playing over and over in my head. Maybe I should go rent it again soon.