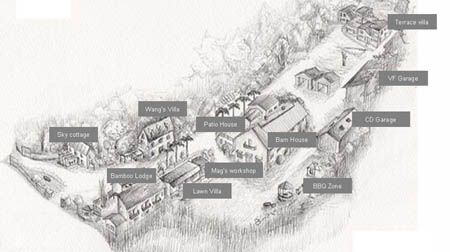 Our flight to Taiwan is booked. On July 1st, late at night, we will be landing on my favorite island in the world. We're trying to sort out work and accommodation to some extent before we get there. I'm not doing so well on the former, but on the housing front things are looking up.
We fantasized about having an old second story flat above a shop in downtown Hsinchu, but knew that was kind of unlikely to happen. So we were preparing to settle for a typically bland Taiwan-style apartment— lots of white paint, tiles and neon light fixtures. The best we could hope for was to have it some place near the hills with a view of bamboo forest or that it would have a decent enough balcony to have a garden on.
But then, through some sifting through facebook, I got the email address of a person whose family has created a hip and organic community in the mountains close to town on what used to be a family farm some 20 years ago.
The community is called
Casa Chile
and it consists of various buildings with different styles of housing. There's plenty of lawn (a rare sight in Taiwan) and the property is surrounded by natural forest, hills and bamboo groves.
Six kinds of structures make up the accommodation with some of them in apartment styles with shared cooking facilities and some private apartments with more bedrooms. And it is not all hippy-like. Not at all. All the buildings are hip and stylish, some have small wooden patios with lawn views, others have views of the bamboo groves. One of the buildings have Japanese-style bathrooms in the apartment. Awesome!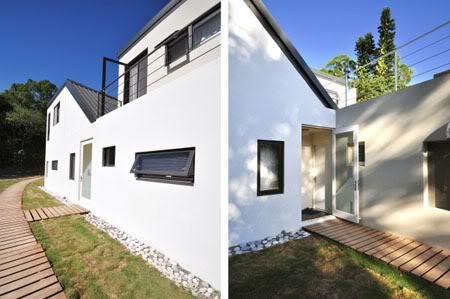 Just the idea of living almost in the city but not and having a place that is stylish and fun was tempting. But then I discovered that the owners will be making some small plots available to tenants who wish to have their own gardens. Here you can plant veggies, fruit and herbs as long as it's organic. And...and...and... you can keep a hen for egg laying purposes! Ah yeah I think I am ready to sign that lease now!
We're hoping to find a place at Casa Chile. It might be a bit further from work and town, but I will gladly deal with driving the distance if it means I can return home to a sunny patio, some weeding and harvesting and watching my hen peck at chopped carrot tops. From my own garden.