After our first spring dinner we decided to have regular Wednesday dinners where we all bring something else to the table. For this dinner I was in charge of cocktails and dessert, Alexander made salads and his sister Olivia got the main course.
To kick the evening off I prepared gin and limeade cocktails, inspired by the
Panaka recipe
from A Life(Time) of Cooking. Although I was very curious about the ghee and cardamom powder I skipped these two ingredients as I did not have time to search for them. It was a pretty refreshing drink and tasted great nonetheless.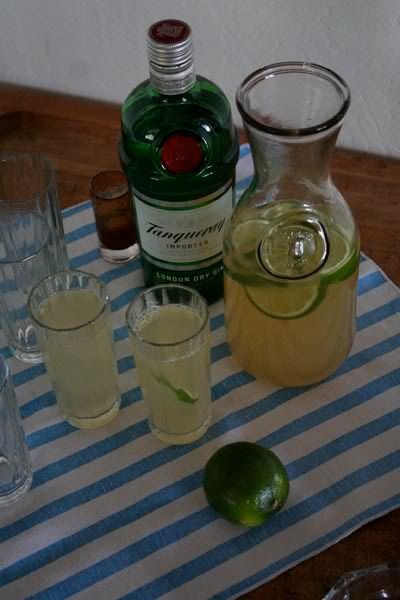 Alexander outdid himself with the salads. They were perfect for spring. The salad on the left was an asparagus and roasted heirloom plum tomato salad. The one on the right consisted of fresh strawberries and pecans tossed with salad greens. Incredible salads. I think I could totally survive on this kind of salad for a while. Fresh!
For the main dish Olivia made an awesome pasta dish. Slices of spicy sausage tossed with broccoli, soft cheese and whole wheat penne. An excellent combination of textures as well as flavors and it worked brilliantly with the two salads.
Dessert was a Norwegian rhubarb cake. The easiest cake ever and a truly fun dessert. I got the recipe from
Cooking Books
. I could not believe how easy it was to prepare and it tasted perfect. So much so that I baked it again two nights later, but this time with blueberries.
I'm most certainly going to miss these Wednesday dinners when we're gone. Hopefully we can recreate a similar experience in Taiwan.