We've been back in Taiwan for over a week now and if I don't write a little about our short stint in Bangkok I probably never will. I am a gifted procrastinator.
We arrived in the city early on the eve of the 27th, checked into our room and started working our jaws pretty much immediately. We went for dinner at inLove, a restaurant on the bank of the Chao Phaya river with great views of the Rama 9 Bridge and river from their rooftop deck. It was the perfect setting for a 'welcome back' meal.
Before our arrival I expected to be blown away by everything again, the flavors, smells of the city, traffic, people. But on the contrary it just felt completely natural and familiar. My first sip of tom-ka-gai (coconut galangal chicken soup) tasted like something I was used to, the tart mango in our salad was like something I grew up with. The same went for everything else. Jumping into a taxi the little Thai I know came back with ease, walking around the streets hearing a language I did not understand made me feel at ease.
Later on we hung out with our friend Paul on Soi 4 in Silom, its a popular gay bar area with tables on the street, all facing out to see who's coming and going. We enjoyed a couple of Changs while enjoying the crowd and mildly flirtatious waiters trying to get us to stay longer and drink more. We were all exhausted though, us from flying and Paul from work and study and he was also catching a flight to Hong Kong the next day, so after a few drinks we said our goodbyes and went back to our guesthouse in Banglamphu to crash for the night.
Thanks to jetlag I managed to sleep until after 10 the next morning. We had breakfast at Roti Mataba and it was still as good as I recalled. Love that place. We strolled around the area for a bit before heading so Sukhumvit where we were to spend the next two nights at the sweet Suk11 Guesthouse. Somehow the place still manages to stay attractive and pleasant despite being in a fairly seedy neighborhood.
We spent most of the rest of the day just eating and shopping. We hung out at Platinum Fashion Mall restocking our wardrobes. The fashions there are way funkier and hipper than at the overpriced and blah MBK. I think I found a new personal shopping hangout in BKK! In between shopping we enjoyed the spiciest papaya salad I ever had, some fishball noodle soup and a grilled fish stuffed with lemongrass. Awesomeness.
We met our friend Sarah (a former colleague from our BKK teaching days) at Central Zen's food court for dinner. We missed the great food courts of Bangkok's department stores and malls and this is possibly one of my favorites. It's a stylish venue with comfortable seating and fantastic views of the traffic and BTS zipping by. Their food is excellent of course and we were all satisfied with our orders (if this sounds like copy writing I've been doing work in this line recently, sorry!).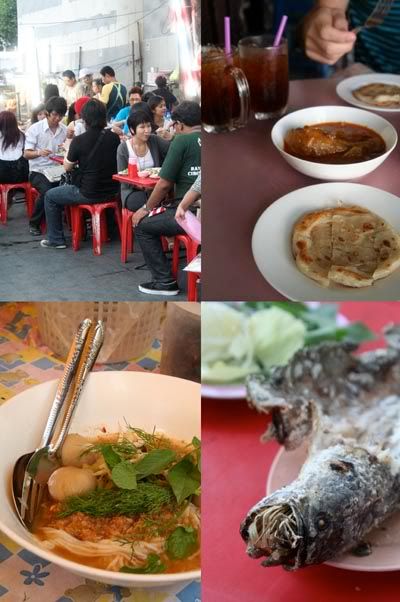 We headed out to Suan Lum night bazaar where we did some more shopping with Sarah's encouragement. Thanks!
We got up earlier on Friday to go for massages before heading to Siam Square and Siam Paragon where we hung out the next day enjoying coffee at Vanilla Industries again, browsing around bookstores and tasting samples at the Gourmet supermarket. We met up with Sarah for her birthday dinner that evening at Cabbages & Condoms, which despite its name is a great restaurant in a beautiful garden with excellent food, plus they support some great causes like family planning and educating people about preventing STD's.
We decided to go out for a drink again on Soi 4 before turning in to bed. Our flight out was the next morning.
Our time in BKK was so short, but really satisfying. I loved being back and feeling right at home. I don't know if we will live there again, part of me is tempted, but mostly not. Who knows? I do love the city and can easily spend a week or more there just taking it all in, enjoying the food, the people watching, the department stores and the shopping. I heart Bangkok and I cannot wait for our next trip there.