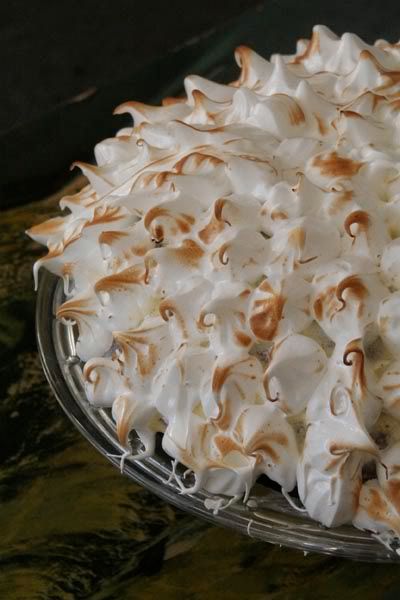 A cake ere I go. Two weeks ago we celebrated the birthday of our friend Corne. It was a big birthday, and her girlfriend decided we should bake a big cake for the occasion. After paging through my Martha Stewart book she picked Martha's Birthday Cake. An elaborate affair involving cake, butter cream, syrup, meringue and a kitchen torch.
I was hesitant at first and tried to pull out of the deal, but in the end I decided to give it a go. It is by far the most tricky cake I have ever attempted with several steps and a really long process, but it paid off. The cake looked great (not perfect but hey!) and it tasted even better.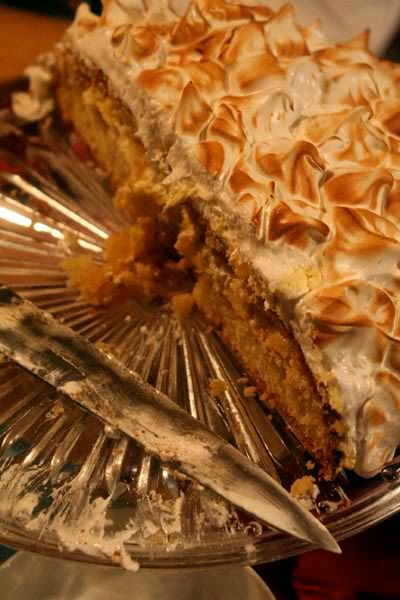 The original recipe called for almond essence and Amaretto simple syrup, but I used coconut essence and Amarula in the syrup instead, giving it a more South Africa taste.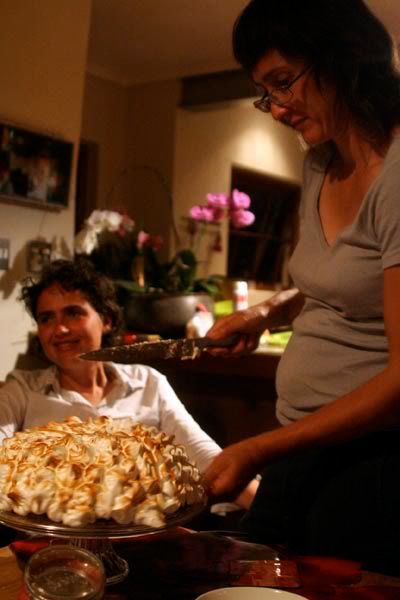 Birthday girl cutting the cake.
Things got a little out of hand later that night. Below is the very looooong recipe. It involves several steps and a lot of washing up if you have a small kitchen with minimal supplies. But is is absolutely worth the effort. A great cake indeed.
The cake:
Ingredients
4 sticks unsalted butter, room temperature
2 cups all-purpose flour
1 cup self-rising flour
4 teaspoons baking powder
¼ teaspoon salt
2 cups plus 1 tablespoon sugar
2 vanilla beans split lengthwise with seeds scraped
1 cup whole milk
8 large egg whites
Amarula syrup (recipe follows)
Coconut buttercream (recipe follows)
Swiss Meringue (recipe follows)
Process
Preheat your oven to 180C (350F) and butter a stainless steel bowl (4.5 to 6 inches deep, I used a stainless steel wok, hence the flat-ish shape). Dust with flour and set aside. Sift the 2 flours, baking powder and salt together and set aside.
Beat butter, 2 cups sugar and vanilla in a mixing bowl until light and fluffy (here's where the stand mixer would have been handy). With mixer on low speed, add flour and milk in four parts beginning and ending with the flour, don't over mix. Transfer the batter to a larger bowl and set aside.
Beat egg whites and a pinch of salt on high speed until soft peaks form. Add the tablespoon of sugar and beat until medium-stiff peaks form. Whisk a third of this mixture into the batter, add the rest by gently folding it in until just combined. Pour the batter into the prepared bowl and bake for 1hour and 20 minutes (or more depending on the size of your oven), until a cake tester inserted comes out clean. Remember to rotate halfway.
When ready, transfer bowl to a wire rack, let cool for forty minutes, invert onto rack and allow to cool completely.
Using a serrated knife carefully cut the cake into two or three layers. I made two, as my cake was not round enough. Brush the Amarula syrup onto the top of each layer, followed by spreading the butter cream over it as you reassemble the cake. Once you've put it all back together again, spread the remaining butter cream evenly over the cake. Fill a pastry bag or strong bag with tip cut off with the meringue and pipe the entire surface of the cake with the meringue. Use a small kitchen torch to slightly brown the meringue all over.
Let the cake at stand at room temperature until ready to serve.
The rest:
Amarula syrup:
Combine half a cup of sugar with half a cup of water in a saucepan over medium-high heat and cook while stirring until sugar dissolved. Stop stirring and bring to a boil, reduce heat and simmer until slightly thickened. Remove from heat, stir in 3 tablespoons of Amarula and allow to cool.
Coconut butter cream:
3 egg whites
2/3 cups sugar
2 sticks unsalted butter, cold and cut into tablespoons
½ teaspoon coconut extract
In the heatproof bowl of an electric mixer set over a pan of simmering water, combine egg whites and sugar, whisking constantly until sugar dissolved and it is very warm to the touch.
Remove from heat and beat with electric mixer starting on low and increasing to high until stiff glossy peaks form. Switch to paddle attachment (if using, otherwise use beaters on medium) and add tablespoons a few at a time, beating until smooth. Add the extract and continue beating until incorporated and smooth.
Swiss Meringue:
8 large egg whites
2 cups sugar
pinch of salt
Combine egg whites, sugar and salt in mixing bowl of simmering water and whisk until sugar dissolved and the mixture is hot to the touch. Remove from heat and beat with electric beaters on medium high for about 2 minutes, then raise the speed to high and beat until stiff glossy peaks form. Use immediately.