We leave today for the East. Everything is pretty chaotic on this side, but getting to a point. Our flight is this afternoon and I cannot wait to be on it and start relaxing again. But before that a quick entry.
Two college friends of Alexander who are on a world tour at the moment came to visit us over the last week and we've been having a great time hanging out with them again, going out for last meals at favorite spots and showing them around. We also had to cook them a South African meal of course and decided to make a bobotie and malva pudding.
The evening started with Alexander's new cocktail, the
Capetonian
, paying homage to the city that's been our home for the past year. It's a brandy-based drink and was the perfect way to start of the evening.
I started the bobotie earlier during the day so the spices could have time to develop their flavor. For those unfamiliar with this dish, it is a popular Cape Malay baked meatloaf with subtle hints of curry, turmeric and bay leaf with an egg custard on top. It often contains raisins, but we used chopped up dried Cape peaches which worked just as well. Also usually served with yellow rice, I used brown instead.
Thanks to Cape Town's late summer sun we took it out on the balcony enjoying the view of the setting sun over Lion's Head for one of the last times.
For dessert Alexander made a malva pudding, a local baked bread-like pudding with a sweet syrup poured over, usually served with cream or sometimes ice-cream. Alexander added an extra South African touch by using Amarula cream for the syrup and he baked the puddings in individual muffin tins. It looked great and tasted spectacular!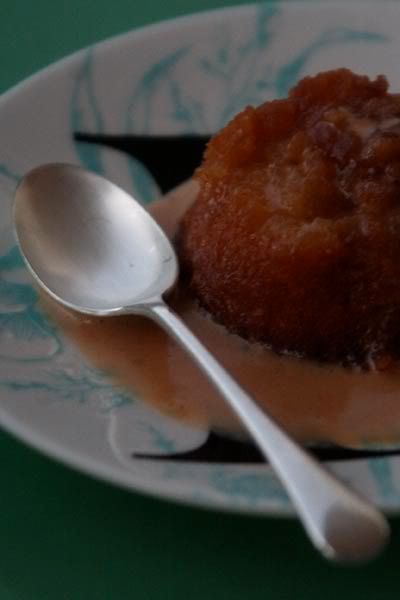 And so our year in South Africa has drawn to a close. The next time we entertain it will be in Taiwan! We fly to Bangkok now for a couple of days, then on to Taiwan for a month, followed by a couple of days in Malaysian Borneo, a quick visit to friends in Kuala Lumpur and then back here for a short visit to family before heading back to the US in April. Adventure! I will try to post often.
* Brett, one of our visitors, is keeping track of her travels at
Around the World with Brett
.
* For more of Alexander's cocktail hour endeavours go check out his section
cocktail hour with primitives
.