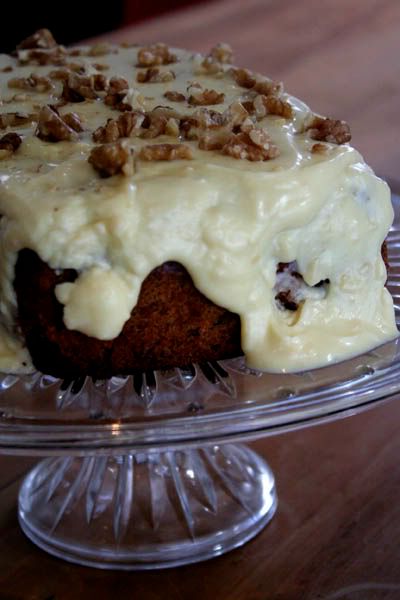 Since we started receiving our weekly loot from Wild Organics I've been having fun cooking with fennel, peas, leeks, potatoes and sweet potatoes. All things I enjoy but for some reason never buy when out shopping. Every week we get something different, last week we got fresh turmeric roots. Whoa! Curry will be prepared from scratch again in this here household.
They've been pretty good at changing the fruit and veggies in the bag each week, keeping up a good variety going. The one thing that seems to be a constant though is the bunch of carrots we receive each week. And not some puny bunch, it's a big bushel with loads of carrots dangling off the leafy stems. Of course, they are not anything like the giant Chernobyl types you get at the store; it's just that there is a lot. I've been inundated with Daucus carota. Hey, the carrot is a member of the parsley family I just read. Sensational stuff.
Instead of being doing the healthy thing and chomping on whole carrots all day long I decided to go on a tiny baking spree with all the orange roots. First off was an attempt at carrot cake. Alexander picked up Cook with Jamie a while ago and though I scoffed at first I must admit that I be loooooving the book. More about that another time though. In this book there is a fantastic sounding recipe for carrot cake and so on an overcast Sunday two weeks ago I baked it for coffee at a friend's.
I followed the recipe pretty accurately, except for the frosting, which called for limes. As this is not Thailand, limes are terribly seasonal so I thought of using grapefruit instead. The slightly bitter tang of the frosting worked wonderfully with the rich spiciness of the carrot cake. If you want to go for limes, you will need zest and juice of two limes.
A Rather Pleasing Carrot Cake with Lime Mascarpone Frosting (or Grapefruit Mascarpone Frosting in my case)
Ingredients:
250g unsalted butter
250g light brown sugar
5 large eggs, separated
zest and juice of 1 orange
170g self-raising flour
1 slightly heaped tablespoon baking powder
100g ground almonds
100g chopped walnuts, plus some more for topping the frosting
1 heaped teaspoon cinnamon
½ teaspoon ground ginger
250g carrots, coarsely grated
pinch of salt
for the frosting:
100g mascarpone cheese
200g full-fat cream cheese
85g icing sugar (feel free to up this a bit to make the frosting less runny and if your frosting is too bitter)
zest and juice of half a grapefruit
Process:
Preheat oven to 180C and prepare a 9inch bread tin by greasing and lining it. Beat butter and sugar together until creamy, then add the eggs one at a time until incorporated. Add the orange zest and juice and beat in. Stir in flour, baking powder, rest of the dry ingredients and carrots and mix together.
In a separate bowl, whisk the egg whites until stiff with the pinch of salt. Fold it into the cake mix until incorporated and pour the batter into the tin. Bake for 50 minutes, turning halfway, or a skewer inserted in the middle comes out clean and the cake is risen and a nice golden colour.
Allow it to cool for ten minutes in the tin before turning it out and cooling it for another hour on a rack.
For the frosting, mix together all the ingredients until smooth and spread over the cake. Top with the rest of the walnuts and serve.
* Original recipe taken from Cooking with Jamie- A Guide to Making You a Better Cook
** Pictures by Alexander