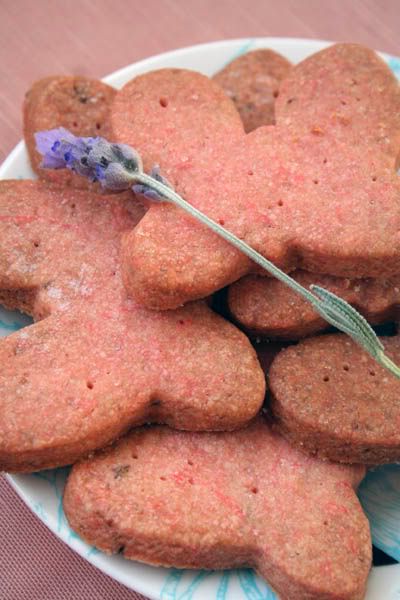 Remember that episode of Sex and the City where Samantha was going to have a three-way with a gay couple, before they spurned her in bed in favor of cheesecake or gelato? I think it was titled Was it Good for You? I think it is one of my favorite episodes and a good example of what that lame excuse of a movie version of the show was missing. Wit, good acting, smart costumes- not those drag outfits Samantha whore (not a type-o) for the movie, and an intelligent script.
One of Carrie's lines from the episode repeated itself over and over again as I was preparing these butterfly lavender shortbread cookies the other day. I forget if it was when Samantha told her about the idea or afterwards when they were witnessing the lingam massage, but the line was a shocked and humored, 'But they're gay!' Maybe it was after.
Now these cookies most certainly do not claim to be anything completely queer, but I still think the line works with them. They are by far the gay-est things ever to come out of my kitchen. Freshly chopped lavender flowers, butterfly-shaped and a little pink. Best enjoyed with a civilized tea.
Ingredients:
110g butter at room temperature
60g castor sugar, plus more for dusting
170g all-purpose flour
5 lavender buds, finely chopped
½ teaspoon water, potentially more
½ teaspoon pink food coloring
Process:
- Preheat the oven to 170C and line a cookie sheet with baking paper or a silicone sheet.
- Beat the butter and sugar together until creamy.
- Sift in the flour, add the lavender buds, water and food coloring and work it into a smooth paste. If the dough seems very dry add a little more water, never more than a teaspoon at a time. You do not want a dough that is too watery or too dry.
- On a lightly floured surface, roll out the dough into a 2mm thick rectangle and prick the surface lightly.
- Cut out shapes (you don't have to go with butterflies of course) and carefully lift them of the surface and place them on the cookie sheet. Refrigerate until firm, about 15 minutes and back, rotating halfway, for about 40 minutes.
- Allow to cool for about two minutes before transferring it to a wire rack to cool completely and store in an airtight container.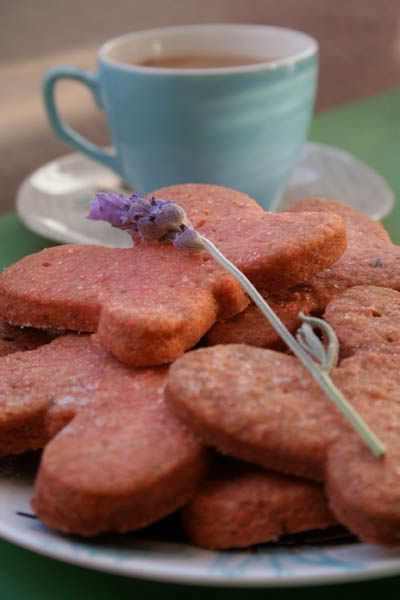 * This recipe is based on a recipe for
Lavender Shortbread Lollipops
in the October 2009 issue of
Food & Home Entertaining
.
** Pictures taken by Alexander