Looking at my blog title and 'About' bit and then looking at my blog content I discovered there is not a whole lot of traveling happening on it... yet. Well, it's a while before we will leave South Africa so there's my excuse. But I know it is not enough, so I will give you some potential itineraries and future plans we've been looking at.
#1- spend the next 2/3 years traveling around the world. Starting with a road trip along the SA coast and moving inland to Limpopo province to spend time with my family and be around for the birth of my brother's first kid. Head to the US and spend spring with X's family and in the States. Work in Canada for the summer and then head to Bogotta to visit a friend and live for a bit. Travel overland tthrough Ecuador, Peru and Chile to Argentina and settle in BA for half a year. Fly back to SA, visit friends and family. Head over to SE Asia and visit Malaysia and Thailand before flying to Taiwan for a stay. Fly back to US via Japan. This plan sounds the most fun to me and I still want to do it a lot, but since this one there have been others...
#2- This one is the same as the first, only we travel through Latin America faster nad stay in Taiwan for a year before going back to the US.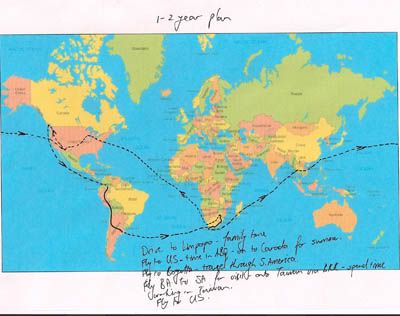 #3- I don't really like this one because it does not include Latin America, but has us go back to New Mexico after our summer in Canada, potentially for me to further my studies in education.
#4- This one too I like, same as the first with a bit of a visit in Bogotta before going back to Taiwan for a year and then back to the US.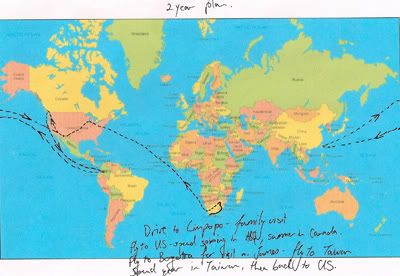 As I type other routes are being discussed. Which one will we choose?