The October/November issue of
ReadyMade
is filling me with the kind of envy generally reserved for kindergarten playgrounds. Things could get dirty. In this issue they feature several 'small space' homes that have been cleverly furnished and decorated without sacrificing space.
All of them are tres adorable and makes me wish I had a shipping container or wine barrel to turn into a nest of our own. Look at these two:
The one on the left is the 300 sq feet of Susan Surface, an architecture student and smart planner; her small apartment seems uncluttered, intimate and very hip. The other one belongs to Hartman Keble, a designer and general contractor who set up a container close to his favorite surf spot near Seattle. Despite it being miniscule, through clever design elements like a fold-down table and bed it seems pretty roomy. And it comes with a cute mustachioed surfer. I think I have a crush.
The highlight of this issue though is the A-frame home of graphic designer and art director Julia Brabec. Take me back to your house!
She bought it a couple of years ago when moving to New Hampshire. The 1960s house sits on a wooded property giving all-round views of tall birches (I think?) changing color with the seasons. The moment she saw it she knew it was right for her.
After some renovations she set about decorating. Her chic flea market finds and a neutral color palette with flashes of bold red, sea-foam green and cool blue. Midcentury-modern pieces look perfect in her house like the armchair and coffee table below, along with sweet decorative items like the birdy paperweight and the A-frame birdhouse.
And who would not want to wake up to this view and under such beautiful bedding? And love the lampshade. Envy!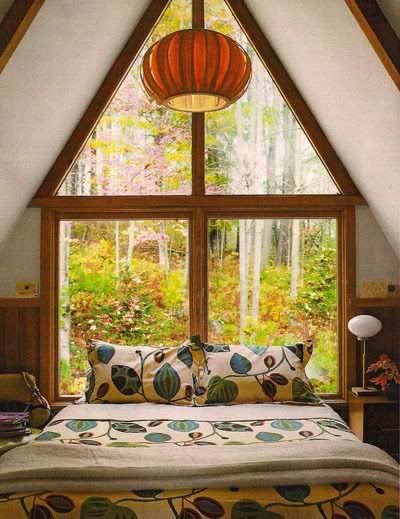 * The images were scanned from the October/November issue of
ReadyMade
.
** For more pictures of Hartman Keble's place visit his
surfshackbox.com
. Sadly no pics of the mustachioed surfer there.
*** This entry is part of the '
Take me back to your house
' series