A while ago
I mentioned
that I use to scoff at the idea of buying a Jamie Oliver cookbook. The thing is that I don't really like celebrity chefs, with the exception of Kylie Kwong, and generally find the whole lot rather full of themselves and somehow a little dull.
So naturally when Alexander started paging through Jamie Oliver books I rolled my eyes and wandered over to the 'Gay and Lesbian' section of Exclusive Books to see if they removed all the straight sex guide books for the G&L section to make room for more thematically correct books (I'm always disappointed).
A month or so ago he finally decided to buy' Cook with Jamie- My Guide to Making You a Better Cook' (because right now you are a shitty cook). I expected to never use the book, but much to my surprise I have prepared loads of recipes from the book and find myself just paging through it for general guidelines from time to time.
The thing is that, despite a somewhat annoying 'YOU CAN DO IT!' undertone, this book really makes you just want to cook everything from it. It is a combination of straightforward instructions, recipes written in a simple conversational style and fantastic photographs. This is the kind of book that even my sister might find useful, if she ever decides to open a cookbook. You kind of have to go out of your way to mess anything up from these pages, it is that simple.
I decided to give myself a bit of a challenge and make ravioli from scratch for dinner the other night. I have never attempted anything like this before. But he made it seem pretty straightforward and so I decided to give it a go.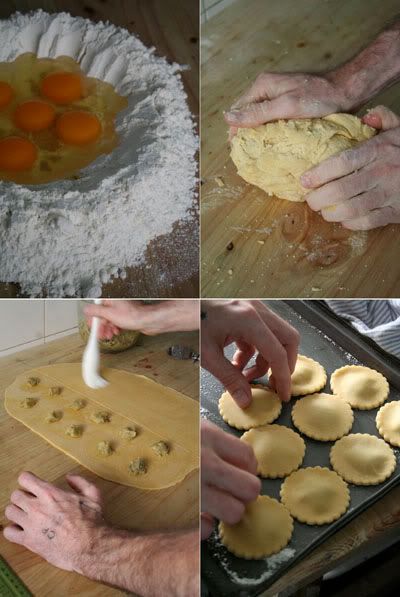 His instructions for making the pasta dough was clear and simple, although it took plenty of effort in the kneading department and had me lay into it with my elbows at one point as my wrists and hands began to ache too much! After letting it rest for a while I started with the rolling-out part. Which was just as hard work as I did not have a pasta machine (like he did). So I set to work with a rolling pin and empty wine bottle. Alexander and I took turns rolling out balls of pasta into flat sheets. More aching hands and wrists followed. When the pasta seemed thin enough we placed the fillings in place, sealed it and cut out the individual ravioli circles. They looked adorable and I was proud of our hard work. Now it just had to hold together during the cooking process.
This was where things went a bit wrong. Instead of being able to boil my ravioli for only a few minutes I had to boil it a lot longer before it was cooked. Reason for this is that I did not roll it thin enough, I know, I am a wimp. In the process of cooking it longer some of the circles came apart, loosing its' filling. Not all was lost though and in the end it came out mostly pretty and tasting fine.
Will I do it again? Yesterday I said hell no, today, maybe. If I had a pasta machine perhaps and also if I could lay my hands on the Tipo 00 flour he suggested which is supposed to be finer and might make kneading a bit easier.
For now, there are lots of other recipes in his book I'd gladly give a go.
* Thanks to
Alexander
for the pictures.
** I was originally going to post the recipe, but after all that work maybe not this time. Just go and buy the book if you're curious!