I have this one recipe that I always use when I bake beskuit (rusks in English, don't like that word either). It is my mom's and she's been baking it since forever. I think it is my favorite kind of beskuit, but I decided that it was time I give something new a try, browsing through some old recipes I found one for anise seed beskuit. Really simple and great with coffee or tea with a great anise taste.
For these you need the following ingredients:
1kg self-raising flour
2 teaspoons anise seeds (or more)
1 teaspoon salt
1 cup sugar
150gr margarine, melted (I suppose you can use butter as well)
2 cups milk
2 eggs, beaten
The process:
Preheat the oven to 180C and prepare a deep oven dish. Mix the dry ingredients in a mixing bowl and set aside. Mix the rest of the ingredients together and add to the dry mixture. Mix until you have a stiff dough. With your hands, roll bits of dough into little balls, a bit bigger than golf ball size and pack them tightly into your oven dish. Bake for about 45 minutes or until a skewer comes out clean. Remove and allow to cool in the pan for 10 minutes. Carefully turn it out and separate the pieces and place on a rack. Dry out in the oven at 100C until dried out. Make a pot of coffee or tea, dip and eat.
These are also great fresh out of the oven after the first 45 minutes with a bit of butter. Yum! I'm glad I tried a new recipe, although I still like my others best these are really great, especially with the anise.
For those who don't know, beskuit is a South African take on biscotti. They're usually higher than biscotti and cut into chunks rather than slices. And it tastes better and less hard than biscotti. Sorry, but it's the truth!
The oven mitt in this picture was made by my maternal grandmother from the kitchen drapes that hung in my paternal grandmother's kitchen years and years ago. We have four in total with blue and red birds on them. I totally adore them. Thanks grans! Oh, and the tin was a Milnerton market find. Cool hey?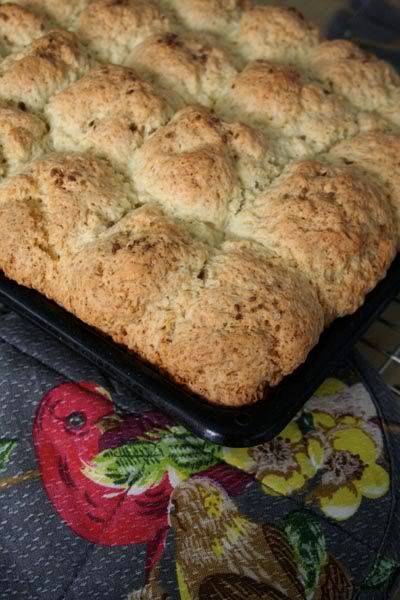 * Thanks Alexander for the pics.