I also visited Cambodia for the first time in 2001. Back then guidebooks made it sound like a nightmare for travel with terrible roads, a dangerous capital and landmines everywhere. We decided to just fly in and out of Siem Reap and spend a couple of days there, exploring the temples.
Upon arrival in the dusty town it seemed the guidebooks were correct. Siem Reap was a backwater with virtually no properly paved roads, massive moon crater potholes in the town, and only a couple of places where backpackers like us could get some burgers or pizza. There was no sign of the food scene Siem Reap boasts these days and the town was not nearly as attractive as it is nowadays. I did not like it one bit and we spent most of our time either among Khmer ruins or cooped up in our AC-d room.
Back then there was nothing around the ruins, not a soul selling fresh coconut juice or stands where you could get a tasty Cambodian curry. There was the odd souvenir peddler, but other than that nothing. We bought fruit, water and sandwiches in town and took it with us for lunch and snacks. We also did not take any cash with us, it would have been totally useless to us.
One particularly hot day we had Preah Khan on our list of sights, one of the ruins that has seen a lot of destruction by the environment over the centuries. It was used as a monastery and university at one time, later becoming an inter-denominational temple for devotees of Vishnu, Shiva and Buddha. My friend Jodi had enough of the heat and decided to wait for me in the shade of a massive tree while I wander around the site.
As I entered a skinny kid of about 11 or so approached me and offered to be my tour guide. They were everywhere those days, following professional guides around and picking up the English, German, French, Japanese and Korean versions of the various temples' history. I told him that I was fine on my own and kept on walking, but he was not about to take 'no' for an answer.
He kept on following me, pointing out features of the temples and sharing bits of information. I knew he was doing this in return for a tip, something I could not give him because I had absolutely no money on me, only my camera, notebook, guidebook, pen and half a bottle of water. I explained to him that I did not need a guide, that I seriously had nothing to offer him and asked him kindly to just leave me alone. He did not budge, so I decided to hang out in one spot until he gave up. No such luck, he just kept on insisting that he did not want any money and that he'd like to be my guide just for fun.
In the end I relented and we strolled through the ruined corridors and clambered over massive banyan roots. Besides being very informative he was also highly entertaining, trying to scare me from time to time by calling out 'Tiger! Tiger!' I enjoyed his company, and as we neared the entrance again I started feeling terrible that I did not have anything to offer him.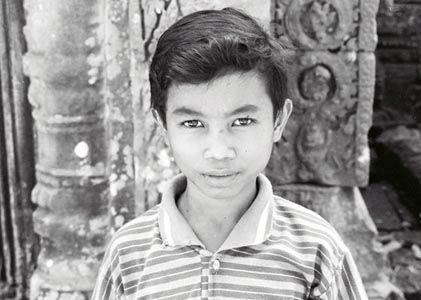 Before saying goodbye I asked if I could take his picture and he gladly obliged. For some reason his expression in this picture is much more serious than the rest of the time. I reached into my bag and repeated what I said earlier, that I had no money and that I could not pay him, but I decided to give him my pen. Hopefully he could use it at school, it was a miserable tip, but I thought it would be something. I thought oh so wrong.
He's kind eyes turned into rage as he chanted in a raised voice, 'Dollar! Dollar!" I reminded him how if warned him I had no cash, but he refused to comprehend. In all likelihood he did not even understand the first time. He refused my pen and started screaming at me in Khmer, causing a bit of a scene. Under the shameful glares of elderly tourists I turned away from him and rejoined Jodi and our driver, him still cursing me in the background.
I remember that day so well; I can still hear his voice, guiding me through the ruins. Whenever I look at this picture I feel a terrible sense of guilt for not being able to give him more. Every time I've been back to Siem Reap and Angkor since then I always wonder, what happened to him?