We are currently figuring out our plans for next February/March. We decided to spend February in Taiwan again, visiting some friends, doing a bit of work and celebrating Chinese New Year there. It will be a first for Alexander. While working out the cheapest and most convenient route between South African and Taiwan Alexander discovered the following: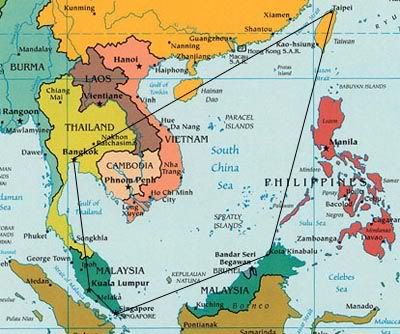 If we fly from Johannesburg to Bangkok and on to Taiwan, then to Kota Kinabalu on Borneo, followed by Singapore, Kuala Lumpur and then Bangkok again and back to Joburg, it would cost less than flying direct to Taiwan and back. I know, I married a flight-plan genius. So after a year of non-travel we'll be making up for lost time very early in the New Year. We haven't made up our minds 100% yet, but we're basically doing this. Like the arrow shape this plan follows too.
Cities, jungles, beaches here I come!