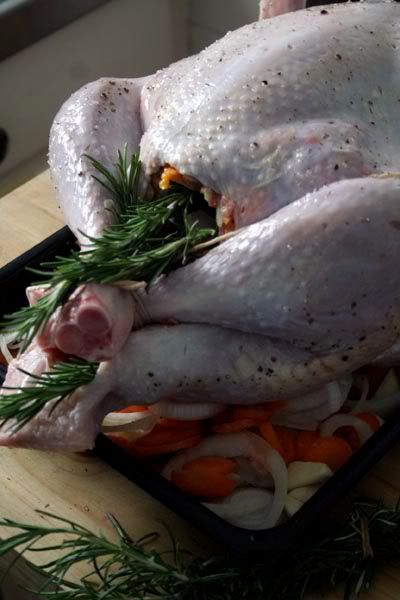 I've been busy this week preparing for our first Thanksgiving as a married couple and the first time we actually have a Thanksgiving dinner. We are hosting it at a friend's home, with us bringing the turkey, stuffing, gravy and pumpkin pie. I've never made turkey before, ever, so this is a huge deal. I was terribly nervous making the stuffing, stuffing the turkey and now getting ready to make gravy. But once the stuffing was done and the bird ready to go into the oven I decided I have reason to be proud of my first effort and I'm certain it's going to taste great.
We've decided to go South African for the stuffing, with
boerewors
(South African style sausage) meat and dried peaches soaked in brandy with lots and lots of rosemary. For the gravy I'm making brandied giblets, another thing I've never worked with before!
Alexander made some beautiful pumpkin pies with a mixture of local squash. Yum!
Will post more after the holidays. Happy Thanksgiving!