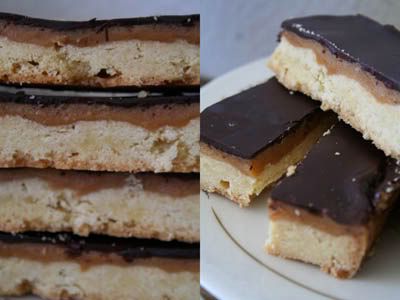 When visiting a bookstore and browsing through the cookbooks section it's always the ones with the best images that captures my attention. If I pick up a book, doesn't matter how brilliant, and it does not contain bright visual stimulation I invariably grow bored within seconds and put it back on the shelf. Yes I know, it makes me sound a bit not-so-smart. Give me a book full of fantastic food pornography however and I am hooked. I would totally buy a book just by looking at the images of food, never once reading through a couple of recipes. That's why I leave buying cookbooks to Alexander or to friends because I know I am not to be trusted with judging a book.
Blissful Brownies is one of those books I would just pick up without glancing at even one recipe's ingredients list. The pages are filled with forty-something brownie and other recipes accompanied by I-want-it-and-I-want-it-now full color images of the finished products. I got the book from a friend for my birthday a couple years ago and just love paging through it sometimes for the pictures. When I felt like baking something sweet recently I decided to select one from this book.
Not an easy task, was I going to go with double chocolate brownies, mocha brownies, pecan brownie muffins, mint julep brownie cakes, blonde brownie hearts, chocolate peanut butter bars, or chocolate marshmallow fingers? In the end it was the picture of caramel chocolate shortbread that won me over. One look and my arteries congealed, greedy heart surgeons rejoiced, cholesterol levels skyrocketed and I said yes, please!
Ingredients:
Base-
115g unsalted butter
1 and ¼ cups flour
¼ cup superfine golden sugar
Toppings-
200g butter
½ cup superfine golden sugar
3 tablespoons corn syrup (I used honey instead which added a great flavor)
400ml sweet condensed milk
7 squares bittersweet chocolate
The process:
Preheat the oven to 180C and prepare a cake tin by greasing and lining the bottom with baking paper. I used a bread tin, my square one was too large I discovered. Sift the flour and sugar together and cut in the butter until the mixture starts resembling coarse crumbs. If you have a food processor you can do it all in there. Press mixture into the tin, smooth the top and bake for 20/25 minutes or until golden.
While this is happening you can start on the filling. Place butter, sugar, syrup and sweet milk in a pan and heat slowly until sugar dissolves. Bring to a boil and simmer for 6-8 minutes, while stirring constantly, until the mixture becomes very thick. Take care not to let it burn. When the shortbread comes out of the oven, pour this rich mixture over and chill in the refrigerator until firm.
Melt the chocolate in a heatproof bowl over simmering water. Let it cool slightly and pour over the caramel. Chill again until set. Remove from the cake tin, cut and you're ready to share. I say share because if you ate it on your own the health consequences may be dire. But worth it!
We took these for dessert to friends where a guest suggested mixing in some peppermint crisp candy bars. As I did not use all the caramel the first time round I decided to give this a go. I followed all the steps, adding a bit of crushed mint crisp to the dark chocolate when melting and covering the caramel with this. Deliciousness! It reminded a bit of peppermint crisp fridge tart, since I decided to make the second round in mini tart pans it was a bit of a tart. Again we shared, sometimes I try to think of my own health.